Olmo Zero Tre
The curvy lines of the Olmo Zero Tre provide a super comfortable carbon endurance bike.  The Zero Tre is constructed with multi layer carbon material from Toray Industry.  This material is same carbon found on top level bikes from our competitors and brings quality, performance and lightness to this new Olmo model.  The frame geometry of Zero Tre is designed for responsive and well balanced handling and a bike you can ride all day.  The internal cable routing will work for both electronic and mechanical drivetrains.  
Built with Campy Potenza group. Fulcrum Race 7 wheels. Vittoria tires. Deda Zero 1 stem. Deda RHM bar. Selle Italia SL saddle.
Frameset Price $1795.00   Complete bike $2595.00
Sizes 47, 53, 56 available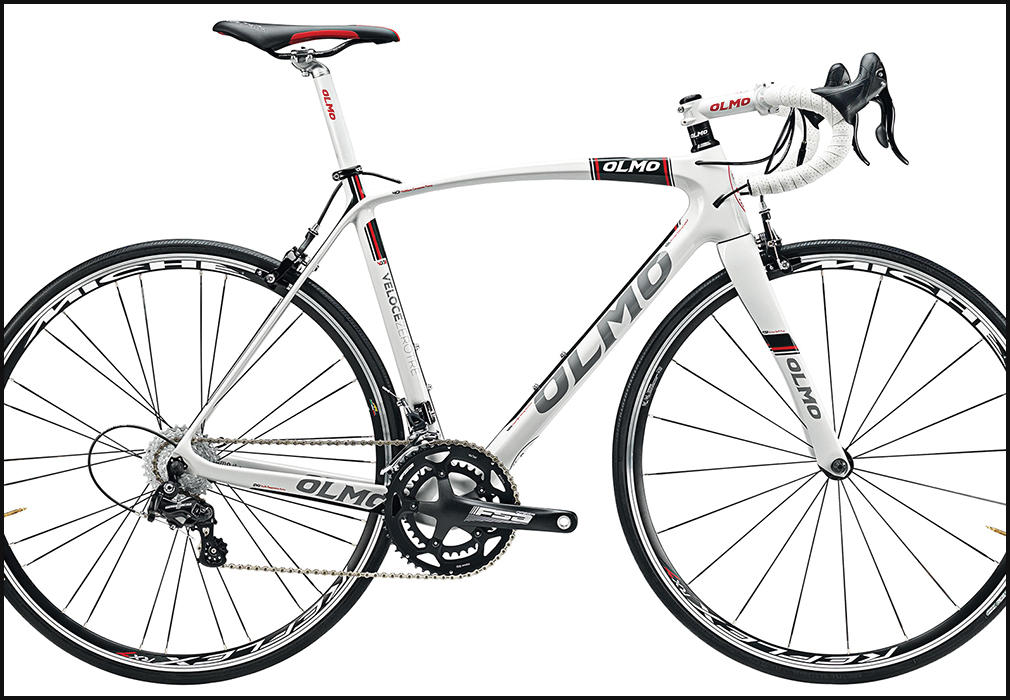 Olmo Gepin Pro
The Olmo Gepin is the new top model in Olmo's range and is named after the founder Giuseppe Olmo.  This new model is the result of many years of working with carbon and is refined from such popular models as Zeffiro, Soon and Personal.  Olmo's engineers wanted accomplish a top level race bike that is both stiff and light but also maintaining superb comfort to reduce fatigue in long races.  They started by creating an extra rigid bottom bracket zone with extra material to reduce lateral flex.  Next they shaped the down tube in order to reduce torsion and joined this to an oversize tapered head tube to improve steering control.  Finally they used extra thin seat stays to improve comfort where the rear triangle meets the seat tube and seat post.  In order to keep the frame ultralight they used the highest grade hi mod and hi res carbon blended with nanotech.  All cable routing is internal and accepts both mechanical and electronic systems.
Built with Campy Chorus group. Fulcrum Race O wheels. Deda Zero bar and stem. Deda Superleggero Carbon post. Astute Skyline saddle. Conti 4000 tires.
Regular Price $5995.00   Sale Prince $4995.00
Blue- 1 left in 57cm   Yellow- 1 left in 54cm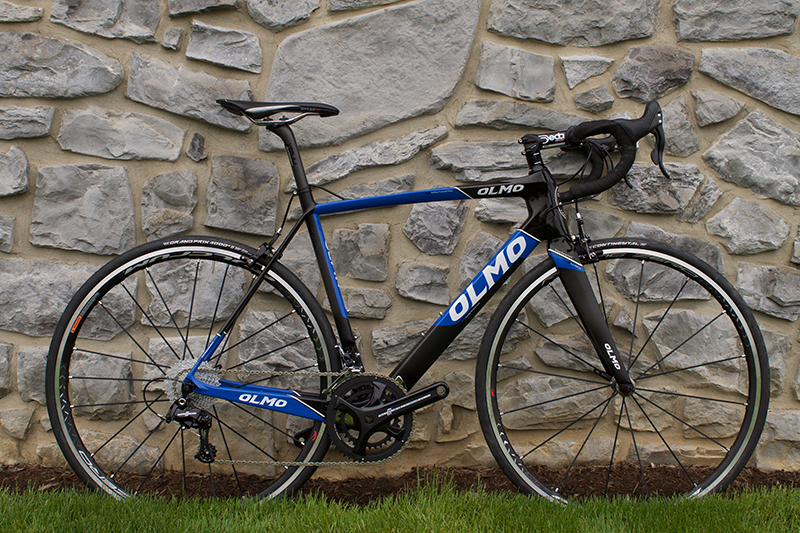 Isaac Sonic
The best from Germany. Round tubes for better strength and vibration control. The Sonic is the ultralight Isaac with a frame weight of 800grams. Excellent paint and finish quality. A climbers dream bike at a super price!
Built with Campy Chorus group. Fulcum Racing O wheels. Deda Zero 100 bar and stem. Isaac carbon post. San Marco Regal carbon saddle. Schwalbe One tires.
Regular Price $8465.00   Sale Price $4995.00
Only 1 left- size 54cm
Call 717 560 9000 for details